Baby Sleeping on a Soft, White Blanket
Baby blankets are soft, lightweight blankets usually made of cotton or acrylic and often edged with a satin binding. A light blue or pink baby blanket is a traditional shower gift for a baby boy or baby girl, although yellow and white blankets are also popular. Some people prefer to make their own knitted or crocheted baby blankets for a personal touch. When a blanket is personalized with a baby's name and birth information, it becomes a unique and treasured keepsake!

Traditional baby blanket fabrics include cotton, wool, silk, and linen. Silk is highly prized for baby blankets in Asia, and was affordable only to the affluent until recently. Linen, made from flax fibers, is the oldest known textile for blankets and garments.
Some of the more popular fabrics and methods for making baby blankets today include chenille, cashmere, fleece, double knit, flannel, and faux fur. Chenille is made of fine yarns woven and cut apart to form a soft, protruding pile; this process can be applied to cotton, rayon, acrylic, wool, or silk fibers. Cashmere is fiber derived from the Cashmere goat, and is the softest, most luxurious material for baby blankets. It is also one of the more expensive materials, but provides great insulation with lightweight coverage. At one time, fleece referred only to wool, but in modern parlance it also includes deep pile or heavy, napped fabrics made with refined polyester. Very soft, versatile, and water-resistant, it is a favorite for baby blankets and relatively low in price. Flannel material keeps babies warm in winter and in colder weather. Faux fur has recently become popular; unlike real fur, this is actually a plush, pile fabric.
Baby blankets are available in many different styles, and they make a practical gift for new parents. However, some parents prefer sleeping bags or sleep sacks for their little ones, and on BabyBlankets.us you will find shops offering a great selection of beautiful baby blankets and snug sleepers for the newest member of the family.
Shop for Baby Blankets
Blankees


Heirloom quality personalized baby blankets - the perfect baby gift that will be treasured for years!
www.Blankees.com

Baby In A Bag


Offers baby sleeping bags for infants and toddlers. These baby sleep sacks may be safer, more convenient alternatives to traditional baby blankets.
www.BabyInABag.com
Blankets for Children
Project Linus


This non-profit organization provides gifts of new, handmade blankets and afghans, created by volunteer blanket makers.
www.ProjectLinus.org
Related Baby Shopping Site
---
Baby Blankets
Related Images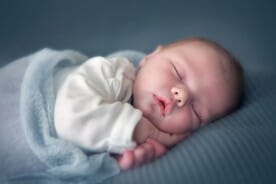 Sleeping Newborn Baby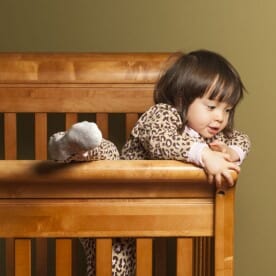 Baby Climbing Out Of A Crib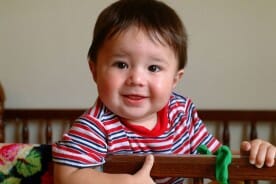 Baby Boy Standing In A Wooden Crib